Battlezone II: Combat Commander
Official Strategy Guide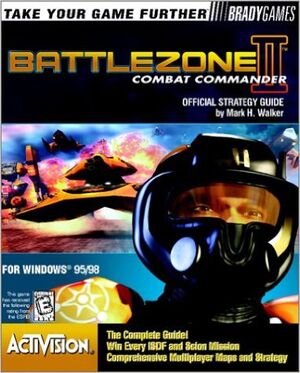 Information
Author:
Mark H. Walker
Publisher: Brady Games
Pages: 224
Release Date: December 21 1998[1]
ISBN:
1-56686-936-6
The Battlezone II Official Strategy Guide is the official guide for Battlezone II, written by Mark H. Walker and published by BradyGames. [2]
The guide covers many aspects of the game, including:
Introduction: An in-universe introduction to Battlezone II and the guide itself;
The ISDF: Description, statistics and strategy tips for fourteen ISDF vehicles;
The Scions: Similar information for fourteen Scion vehicles;
The Weapons of Battlezone II: Brief descriptions and strategy advice for 39 of the game's original weapons, including combat and assault variations;
Scattering Scions and Humiliating Humans: General Strategies for Battlezone II: General gameplay tips on topics including basic movement, using the terrain, resource management and unit grouping;
In The Beginning: Walkthroughs for the terrestrial missions of the ISDF Campaign, from This Is Not a Drill to The Wormhole;
The Middle Campaign: Mission walkthroughs for the five missions between Through the Looking Glass and On Thin Ice;
A Battle Royale: Walkthroughs for the missions between Counterattack and Core;
A Species Not Worthy: Mission walkthroughs for the seven missions of the Scion Campaign;
The Multiplayer Zone: Tips an advice on connecting to and playing online Strategy, Deathmatch, Capture the Flag and King of the Hill matches, with maps, statistics and situational strategy tips for 31 multiplayer maps;
A seven-page index
References
Edit
↑ Battlezone II Official Strategy Guide
Ad blocker interference detected!
Wikia is a free-to-use site that makes money from advertising. We have a modified experience for viewers using ad blockers

Wikia is not accessible if you've made further modifications. Remove the custom ad blocker rule(s) and the page will load as expected.