NSDF Carrier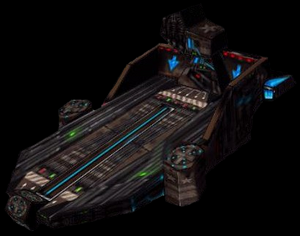 Information
Faction:
NSDF
The carrier is a large NSDF aircraft designed to provide support to the Striker and Air Striker fighters. Similar in design to an aircraft carrier, it appears intended to provide repair and ammunition services to these aircraft at a staging point that allowed them to avoid fully returning to base between engagements, though it is unknown whether it would also provide launch and landing facilities to these craft.
The carrier was among the six units cut when it was discovered Battlezone: Rise of the Black Dogs was unable to support aircraft due to engine limitations.
Ad blocker interference detected!
Wikia is a free-to-use site that makes money from advertising. We have a modified experience for viewers using ad blockers

Wikia is not accessible if you've made further modifications. Remove the custom ad blocker rule(s) and the page will load as expected.