For the real-world Battlezone manual, see Battlezone Manual.
NSDF Field Briefing Guide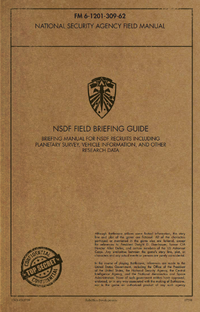 Information
Date: June 1969
The NSDF Field Briefing Guide - coded FM 6-1201-309-62 - is a document published by the NSA from Stewart Road and issued to NSDF recruits in order to prepare them for their duties. The edition in circulation during the summer of 1969 dealt specifically with the threat presented by the Soviet CCA.[1]
The NSDF Field Manual provides important information to NSDF recruits, including technical readouts and reports on the planets the NSDF expects to operate and the equipment it will use to do so such as its units, buildings and the weapons in its arsenal. Some basic instruction on the use of this equipment is also provided, alongside copies of documents that shed light on the formation of the organisation. Some limited information is also provided on equipment fielded by the Soviet CCA.
A revised edition was distributed in a manilla folder rather than the previous A5 ring-bound version.[2] An addendum to of this was distributed to the Black Dog Fourth Platoon under Commander Harris, and a supplementary Support Unit Manual was produced to provide further details on non-combat units.[3]
It was eventually succeeded by the ISDF Field Manual.
Appearances
Edit
References
Edit
Ad blocker interference detected!
Wikia is a free-to-use site that makes money from advertising. We have a modified experience for viewers using ad blockers

Wikia is not accessible if you've made further modifications. Remove the custom ad blocker rule(s) and the page will load as expected.