Naga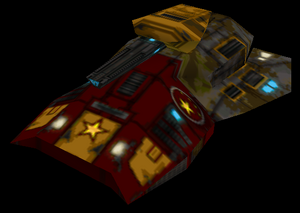 Information
Faction: CRA
Name: Unknown
Codename: Naga
Vehicle Type: Armoured Assault Tank
Built By:
Unit Factory
---
Health: 2500
Ammo: 1000
Built Time: 7s
Scrap Cost: 6
---
Hardpoints

TAG Cannon
Sandbag

The Naga is a nimble tank, often used to attack a position from some distance with its TAG Cannon while other units move ahead to draw fire away from it.
Ad blocker interference detected!
Wikia is a free-to-use site that makes money from advertising. We have a modified experience for viewers using ad blockers

Wikia is not accessible if you've made further modifications. Remove the custom ad blocker rule(s) and the page will load as expected.