NSDF M580A2 Scout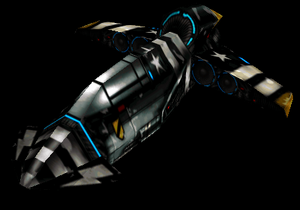 Information
Faction: NSDF
Name: M580A2 Scout
Codename: Razor
Vehicle Type: Mid-Range Armoured Assault Tank
Built By: Recycler
---
Health: 1800
Ammo: 700
Built Time: 12s
Scrap Cost: 6
---
Hardpoints

Standard Minigun

Standard Minigun
NSDF M580A2-BD Scout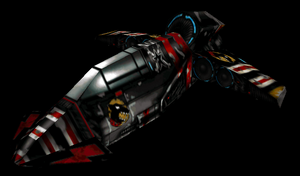 Information
Faction: NSDF Black Dogs
Name: M580A2-BD Scout
Codename: Razor
Description
Edit
The front end of the US attack force, the Razor is built for speed and agility with only modest armament to aid in combat. It was designed as a reconnaissance vehicle. Relying exclusively on it in a combat situation is not recommended. While the canopy design is almost identical, dubbing the Razor a variant of the P-47 "Thunderbolt" fighter plane would be a massive understatement. It has been retrofitted with twin V-thruster engines and a unique tri-mounted stabiliser system, granting it speed bursts of up to 60 meters per second. Recent modifications on the exhaust ports allow the engine's thrust to be aimed in any direction, giving the Razor a lightning fast turn speed as well as limited vertical take-off and landing (VTOL) capability.
The Razor is the fastest ground-based vehicle ever created by the NSDF, able to outrun the CCA Flanker with ease. But with this trade off, the lowered armor does not fare well in full-front attacks, making the scout better used in finding enemy positions and dropping NAV beacons for its comrades to locate.Having proven itself during the Second World War, the US knew a strong and versatile tank would be crucial to fighting on other worlds. This early design later became the NSDF Bobcat. It was all it was intended to be and more, outperforming anything in the German arsenal. The unit was so effective, in fact, that it remained in use during the Biometal Wars of the late 60s, more than twenty years after it first rolled off the assembly line. The original designs were later used again in the production of the Grizzly.
Original Design
Edit

At first glance, the Razor prototype looks like a crude hybrid of a jet fighter and a hovercraft. But closer inspection shows that "crude" is far too weak a word. Rushing to meet a deadline, NSDF technicians literally sawed the front end off a grounded P-47 and mounted it onto their engine base. The gamble paid off. The bird flew and it put them on track, with later improvements resulting in the Razor scout used during the Biometal wars.
Attributes
Edit
25m/s maximum forward velocity
25m/s maximum reverse velocity
20m/s maximum lateral velocity
150°/s maximum rotation
Equipment
Edit
25mm EDD armour
600 ammunition cells
Cannon (2)
Rocket
Variants
Edit
Multiplayer
Edit
The multiplayer variant of the Razor carries less ammo but more armor than standard.
Black Dog Razor
Edit
Functionally equivalent to standard NSDF Razor; the Black Dog variant carries two hardpoints, one rocket and one cannon. Standard armament is single minigun and shadower rocket.
Ad blocker interference detected!
Wikia is a free-to-use site that makes money from advertising. We have a modified experience for viewers using ad blockers

Wikia is not accessible if you've made further modifications. Remove the custom ad blocker rule(s) and the page will load as expected.