NSDF TU11-BD Mobile Bio-Metal Fabricator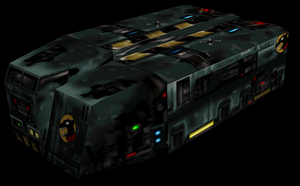 Information
Faction:
NSDF
Black Dog Squadron
Name: TU11-BD Mobile Bio-Metal Fabricator
Codename: Recycler
Vehicle Type: Mobile Unit Factory
Description
Edit
The Black Dog Recycler is the heart of a Black Dog Squadron base's operations, providing basic utility and combat units and early field repair, and acting as a repository for collected biometal scrap. It is impossible to replace in the field; therefore, its destruction would severely hamper the Black Dog effort. The Recycler must be deployed on a Geyser to function.
Construction Menu
Edit
^* : Battlezone: The Red Odyssey only
Attributes
Edit
15 m/s maximum forward velocity
15 m/s maximum reverse velocity
15 m/s maximum lateral velocity
Equipment
Edit