The Fall of the Old Gods:
A Cthonian Prehistory Serial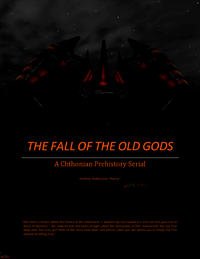 Information
Date: 2013
Author:
Anthony Hadley
The Fall of the Old Gods is a five-part serial written and published in 2013. It dealt with the events of the last twelve years before the destruction of Icarus, following Hadean Crown Emperor Nexus V and his role in the Cthonian Triarchy. Publication of the series stopped after it was folded into Return of the Old Gods.
Ad blocker interference detected!
Wikia is a free-to-use site that makes money from advertising. We have a modified experience for viewers using ad blockers

Wikia is not accessible if you've made further modifications. Remove the custom ad blocker rule(s) and the page will load as expected.