The History of Biometal Warfare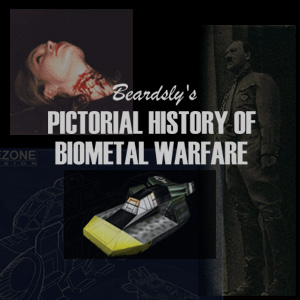 Information
Date: 1999
Source:
pandemicstudios.com
Period: 1899-1947
The History of Biometal Warfare - also known as Beardsly's Pictorial History of Biometal Warfare - was a subsection of pandemicstudios.com used to promote the release of Battlezone II.  It was split into six chapters and twelve parts explaining the history of human interaction with Biometal, from Jon Beardsly's experiments and leading into Battlezone II.
Like much of the promotional content for Battlezone II, the serial took the form of in-universe documentation; in this case, a website created by Beardsly's granddaughter.
Jon Beardsly
, his experiments with the material and the subsequent involvement of
Nazi Germany
.
[1]
Third Reich
's scientists had based on Beardsly's designs and showed the product.
[2]
[3]
CCA
units.
[4]
General Kranken
's forces from the
Moon
, their defeat and the formation and expansion of the
NSDF
, and the beginnings of the
Biometal War
. It then goes on to showcase a small selection of NSDF units from
Battlezone
[5]
The Challenge of Today
Edit
References
Edit
Ad blocker interference detected!
Wikia is a free-to-use site that makes money from advertising. We have a modified experience for viewers using ad blockers

Wikia is not accessible if you've made further modifications. Remove the custom ad blocker rule(s) and the page will load as expected.