The Skulls of War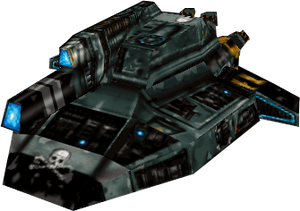 Information
Developer:
"Goomba"
Release Date: TBA
Period: Early 1970s
The Skulls of War is an in-progress mod developed by Goomba announced in March 2013.[1] It currently has no release date. Most of the content created for the project was lost in a hard-drive failure in early 2014, forcing Goomba to recreate most of the assets; this slowed progress and resulted in significant changes in plans for the mod, though the precise nature of these changes remains unknown.[2]
The mod follows a group of NSDF Black Dogs who mutiny and split from the main force to fight the CRA on their own using stolen and scavenged equipment. Their main battle tank, a variation on the Black Dog Grizzly, carries less ammo in exchange for slightly more armor.
Features
Edit
Screenshots
Edit
References
Edit
Ad blocker interference detected!
Wikia is a free-to-use site that makes money from advertising. We have a modified experience for viewers using ad blockers

Wikia is not accessible if you've made further modifications. Remove the custom ad blocker rule(s) and the page will load as expected.